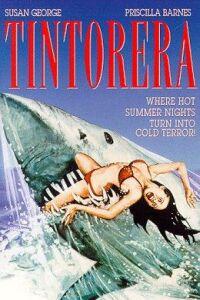 TINTORERA
Original Title:
¡Tintorera!
Tintorera ...Tiger Shark / Tintorera: Killer Shark / Tintorera... Bloody Waters
German Title:
Tintorera! - Meeresungeheuer greifen an
Director: René Cardona Jr.
Undoubtedly the weirdest killer shark flick I've seen so far, especially because it's everything but a killer shark flick. "Tintorera" is actually a tedious romantic softsex comedy including a few tiger-shark scenes.
The plot is horrible: it's about 2 guys enjoying their life, they eat and drink, they seduce and hump various girls. In the end a tiger shark appears who kills a few people before it finally gets killed - yep, that's it!
Even worse: I've seen the uncut 115minute-version which is eventually 100 minutes boring romance-crap and only 15 minutes shark action!
Ok, the acting is quite decent (especially Andrés García), some parts of the dialogue are pretty entertaining and the shark scenes are cool and gory. Aside from that it's a dull and lame borefest, unrecommendable and avoidable.