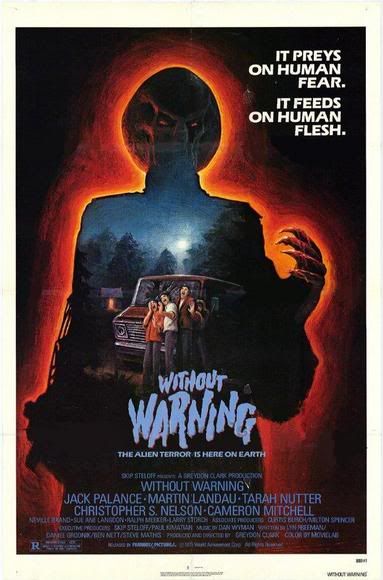 WITHOUT WARNING

Alternate Titles:
The Warning / It Came Without Warning / Warning
German Titles:
Das Geheimins der fliegenden Teufel / Alien Shock
USA, 1980
Director: Greydon Clark
3/10
A hilariously bad but at least quite amusing early-80s space invader rubbish.
* The flying and bloodsucking jellyfish-like creatures
* A few suspenseful and atmospheric scenes
Cons:
* The plot... wait, there is no plot!
*
Martin Landau
's outrageously bad performance - I mean, was he on drugs or something?
* The other actors are also pretty bad
(that scene where Jack Palance is running towards the boss alien, screaming
"Alien! Alieeeeeen!!!"
- outstandingly horrid!)
* A poorly written and paced script
* Lots of horrible dialogue
* Lots of awfully boring scenes
* A super-disappointing climax