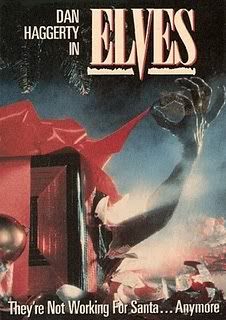 ELVES
USA, 1989
Director: Jeffrey Mandel
3/10
Oh my goodness, what the fuck was that? A movie about a bunch of nazis and a murderous nazi-elf that tries to impregnate a virgin to create the ultimate nazi-elf master race? Director Mandel must have been high on drugs when he came up with this plot.
"Elves" is undoubtedly one of the most hilarious but also most ridiculous horror movies I've ever seen. It starts out pretty entertaining with some fabulous christmas rant, a disturbing cat-gets-drowned-scene and the appearing of the elf (which looks quite fun). Unfortunately after the first 20-30 minutes the movie quickly becomes dull and slow. Hardly any tension or suspense, lame acting, silly dialogue and some boring deaths.The last 10-15 minutes are halfway decent but can't save the movie.
Amusing but forgettable end-of-the-80s christmas cheese.