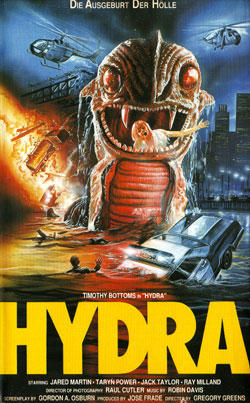 HYDRA
Original Title:
Serpiente de mar
Alternate Titles:
The Sea Serpent / Hydra, Monster Of The Deep
German Title:
Hydra - Die Ausgeburt der Hölle
Spain / USA, 1984
Director: Amando de Ossorio
3/10
My goodness, what a laughable and ridiculous piece of trash!
Amando de Ossorio
, the man who created the iconic "
Blind Dead
" quadrilogy, totally failed with this super-shoddy monster movie.
Most of the time it's horribly slow and boring. Even when there are scenes which are meant to be tense, it's still boring. The story totally sucks, nothing here makes any sense. The dialogue is bad, the acting is mostly pretty lame and what the hell was
Ray Milland
doing in here? Did he really need the money that much?
Of course, the worst thing about this lowest-budget lamefest are the rubbish effects: jeez, that sea serpent is undoubtedly one of the silliest things I've seen in my whole life! A huge sock puppet with goggle eyes, which constantly screams like a hysterical old hag - I laughed my ass off! :-D
Furthermore, all the miniature lighthouses, boats, bridges and trains look very tacky, and, most annoying, nearly everthing the sea serpent does is just terribly illogical
(especially the attacking and destroying of huge buildings for absolutely no apparent reason)
.
1 point for some mildly and/or unintentionally funny scenes, 1 point for the nice
Jaws
-like soundtrack and 1 point for the sock puppet :-D
Fun fact:
Not only Ray Milland's last movie (unfortunately),
but also Amando de Ossorio's last movie (fortunately).
Imdb