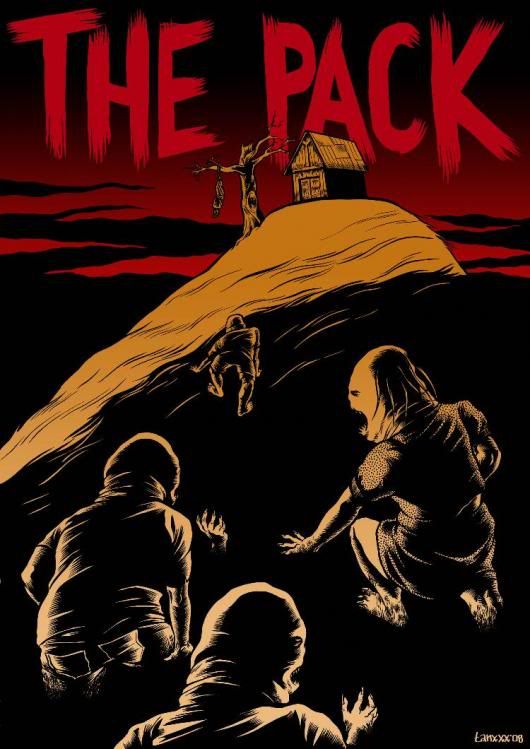 THE PACK
Original Title:
La meute
German Title:
Die Meute
France / Belgium, 2010
Director: Franck Richard
7/10

Ah, that feels good!
After huge fails like "
Humans
", "
Sheitan
" or "
High Lane
", I finally get to see a French horror movie that is actually good - "The Pack", a gorgeous and entertaining little violencefest which gives me new hope for the future of French horror cinema.
It's not a perfect movie due to a muddled and messed up script with too many ideas thrown into the pot, a few unnecessary and annoying characters, and a disappointing and confusing ending.
Despite these flaws, I totally enjoyed it!
There are a lot of awesome performances from
Émilie Duquenne
,
Yolande Moreau
and the great
Philippe Nahon
(yes, the killer from "High Tension")
. The soundtrack is very powerful and the cinematography is mindblowingly awesome, mainly because of many great tracking shots and loads of beautifully atmospheric shots of eerie locations and rural/backwoods settings.
We also get to see some nice gore (torn off arms, decapitated heads...) and some cool torture (brandings, a bizarre kinda-melking-machine), the main villain (the batshit insane big momma La Spack) is one of the most amusing villains I've seen in a long time and the Pack itself, a horde of undead kinda-zombie-creatures, looks just amazing.
More noteworthy tidbits:
Nahon's 'I fuck on the first date' shirt, the scene where Nahon puts saltsticks into his ears and nose, the 'John Wayne, John Wayne' guy, another guy who's wrapped up in plastic and runs into a wall, the creepy awakening of the creatures, the gory very last shot, the funny masochist/sadist/necrophiliac/etc. joke,
and last but not least, a brief appearence from the legendary
Citroen HY van
which we all know from High Tension.
Overall, a highly enjoyable Euro-horror flick. Would love to see a sequel!