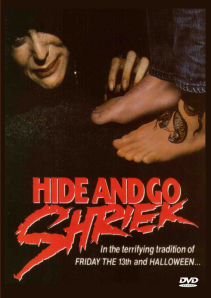 HIDE AND GO SHRIEK
Alternate Title:
Close Your Eyes And Pray
USA, 1988
Director: Skip Schoolnik
4,5/10

An average little 80s slasher, on the one hand quite entertaining, on the other hand way too flawed to be called a classic.
I pretty much enjoyed the first hour which is filled with all our favorite ingredients: a couple of goofy and horny teenagers (fortunately, not too annoying), some silly dialogue, some gorgeous nudity, a creepy location (a dark furniture warehouse packed with eerie-looking mannequins), an interesting killer (who loves to hide in the dark and to imitate his victims) and a few decent kills.
Unfortunately, the movie collapses completely in the last half hour: loads of terribly boring and tedious scenes, some outrageously bad over-acting, the script becomes more and more shiftless, the climax is lame, the plot twist is horrendously stupid and the killer (who finally turns out to be some loony kinda-transvestite) sucks so incredibly hard, it's difficult to comprehend.
For die-hard 80s fans only!